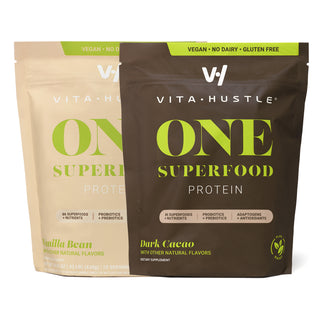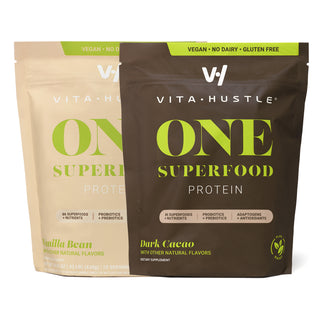 VitaHustle ONE Superfood Protein - 30-Day Supply
Try Kevin Hart's VitaHustle ONE Superfood Protein and instantly feel the difference in your energy levels, digestion and overall wellness. The all-in-one daily shake contains 20 grams of plant-protein and 86 nutrient rich ingredients and vitamins.
Use code: FREEBAG at checkout when you subscribe to this limited time offer. You'll pay  $39.95 today for 2 (15-serving bags) with free shipping. In 30-days and every 30-days therafter, you'll receive 2 bags with free shipping. Cancel or change online at any time. 60-day Money-Back Guarantee.
Choose your 2 bag flavors:
Chocolate
Vanilla
Choc/Van
Choose your 2 bag flavors:
60-Day Money-Back Guarantee
HOW TO USE
Adults, take 2 gummies per day

INGREDIENTS
Bovine Collagen Peptides, Organic Tapioca Syrup, Cane Sugar, Distilled Water, Pectin, Citric Acid, Natural Flavors, Sodium Citrate, Natural Color (from Black Carrot Extract).

PRODUCT BENEFITS
Supports Skin Health
Promotes Healthy Hair
Strengthens Nails
Collagen Production
Antioxidant Protection

Crazy Good!
Being a vegetarian this is a great product for me to make sure I am getting everything I need. B12 an iron are a must and this fills in the gap perfectly!
This is my go-to breakfast smoothie protein powder. It tastes great, blends well and goes down smooth!
Amazing product
It tastes amazing and I feel better, does not quite curb my cravings or give enough energy. I still find myself needing coffee in the morning
Tastes great mixes well in smoothies
Im convinced
Solid product! I enjoy the plant based version and it truly has the affect of a quality plant based protein. Good flavor and the bags come full.
All GOOD NO B.S. (BAD STUFF)
Clean & green ingredients with no artificial sweetners or scary sounding ingredients.
No Artificial Ingredients