Buy Now
Manufactured in a facility that processes milk, egg, fish, crustacean shellfish, tree nuts, peanuts, wheat and soy.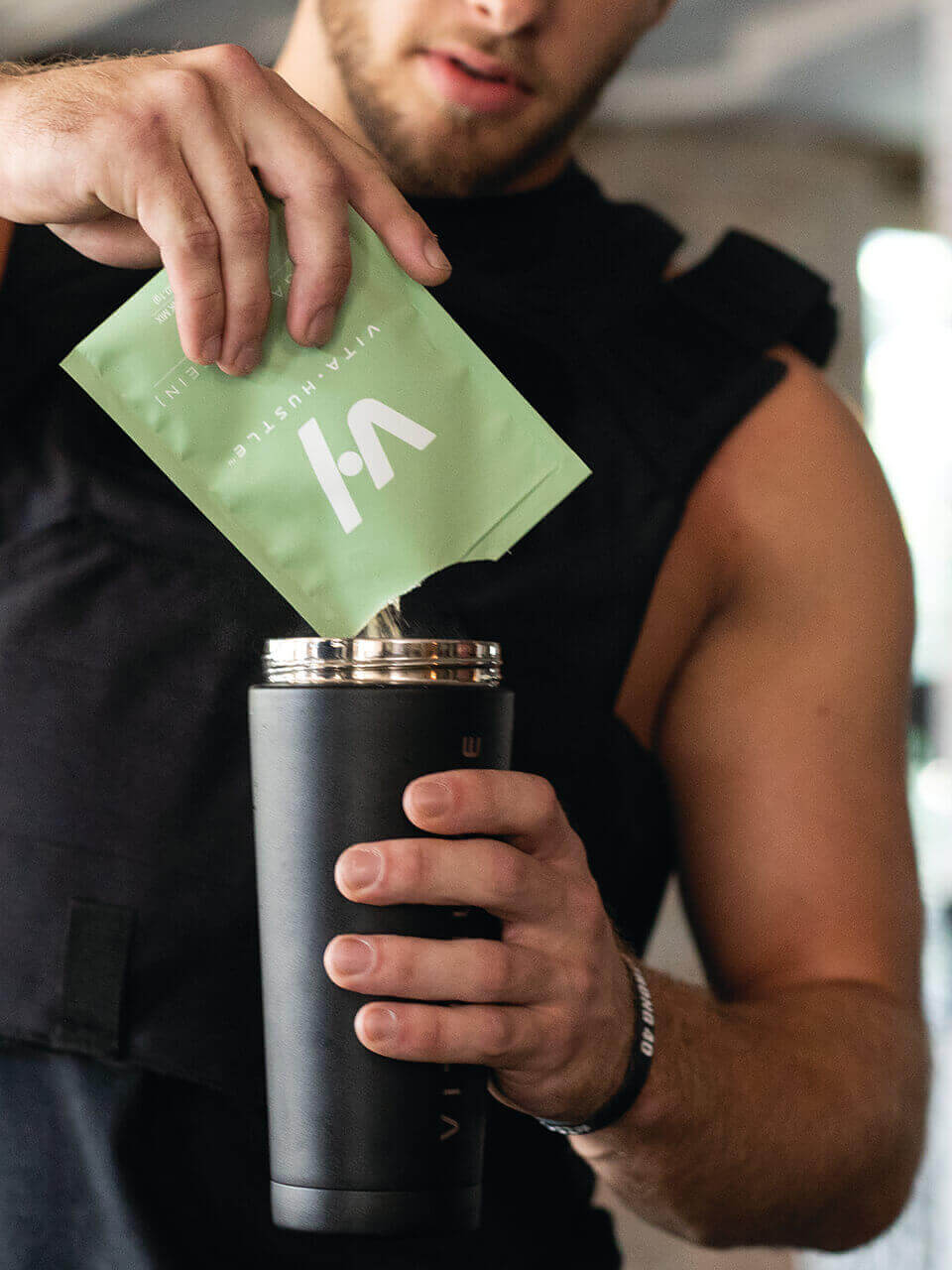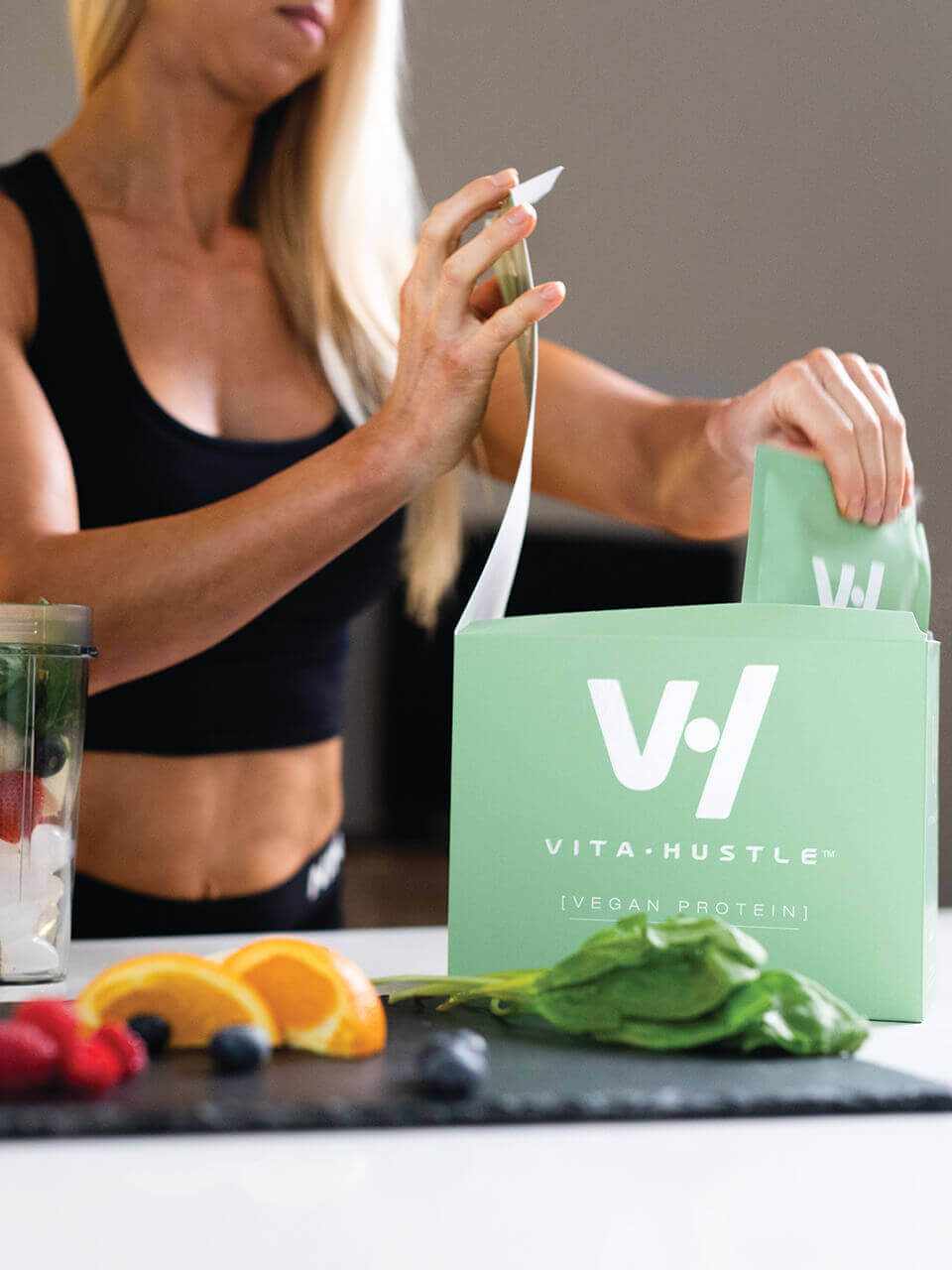 What's inside vitahustle? Potential.
Developed with easily-digestible pea, pumpkin seed and chickpea proteins, plus gut-smart probiotics and digestive enzymes, VitaHustle Vegan protein is completely plant-based, gluten free and non-GMO. Our protein is naturally sweetened, and flavored using only organic sources. Free from soy and artificial dyes, but packed with what your body needs to build muscle and boost energy. † Because we want you to feel good about your protein, but great about your workout.
Muscle

Vegan Protein contains a blend of 21 grams of Vegan Pea Protein, Chickpea Protein, and Pumpkin Seed Protein –40% of the daily value of protein

Recovery

Pepzyme AG is specially formulated to boost the body's existing ability to convert proteins to smaller peptides and free amino acids. For athletes, this process helps maintain, and even increase, muscle strength, tone, repair and recovery.*

Energy

Packed with easily-digestible pea, pumpkin seed and chickpea proteins to provide what your body needs to build muscle and boost energy.
ONE FORMULA.

ENDLESS POTENTIAL.
Digestive Enzymes and Probiotics

A powerful protease blend that supports the body's ability to convert proteins to free amino acids, thereby increasing their bioavailability to build muscle and other support structures in the body*

Natural Sweeteners

Naturally sweetened with Stevia Leaf Extract.

Vegan

Non-Allergen

Organic Flavors

Gluten Free

NON-GMO
Great tasting
I like it considering it is vegan 😊
Great taste but I like free shipping
The healthiest milkshake
I tried milkshake all over the place and this Vita-hustle has far the best milkshake ,it was surprisingly good.
To me it is the number-one shake in all the time , look no further than Vita hustler Great Shakes, that truly lives up to its name. Great Shakes that you have ever tried, and there is no disappointment . If you want the best milkshake experience , make it a priority to try vita hustle .
Tastes Too Sweet, But Overall A Win
Honestly I like the whole formulation of this protein; it feels really clean. However, I find that it's WAY too sweet, albeit a natural sweetener (Stevia Leaf) I am not a sweets person, so I may be in the minority, but I'm having to add more greens to balance it out... which I guess isn't a bad thing??
The single serve packets are super useful. There's no more scoop-search-gauntlet. Normally the packaging waste would deter me, but VitaHustle claims they are recyclable, so that's a win for me.
Great product
I don't usually like chocolate flavored protein shakes so, I purchased half and half. I thought the flavors would be combined in a single pouch not 15 pouches of chocolate and 15 vanilla pouches. Silly me!!! I enjoyed the vanilla pouches.