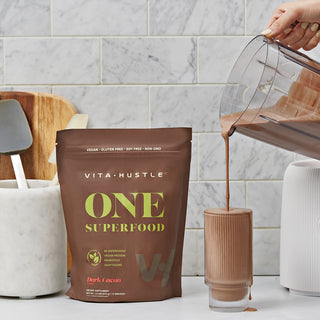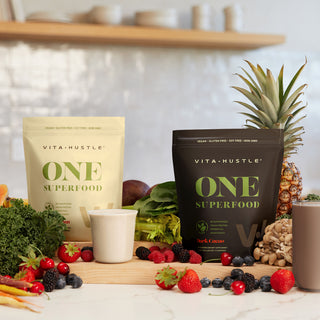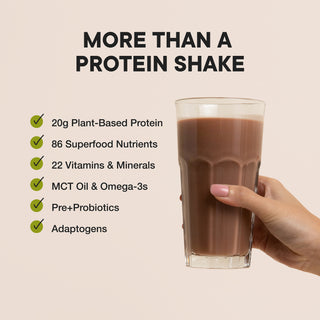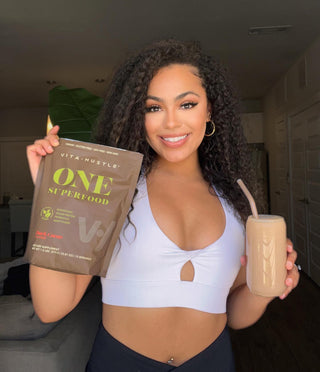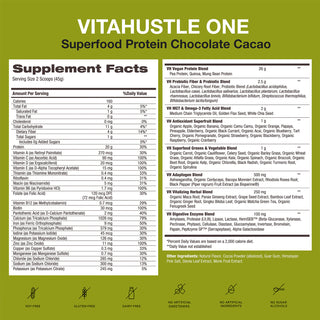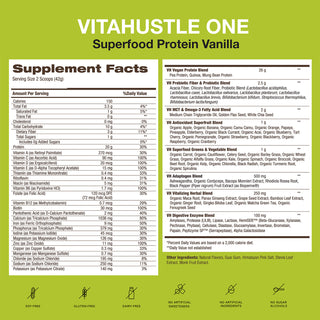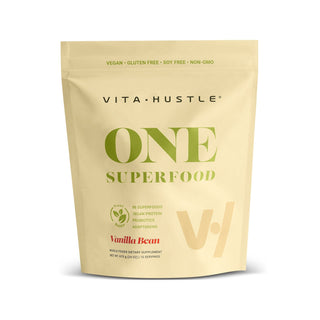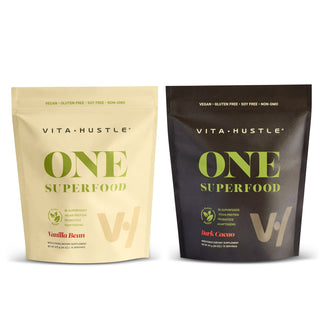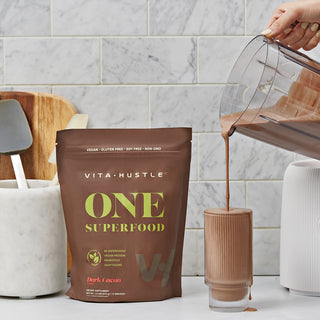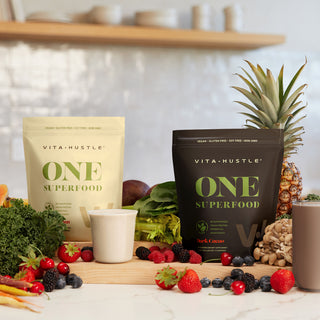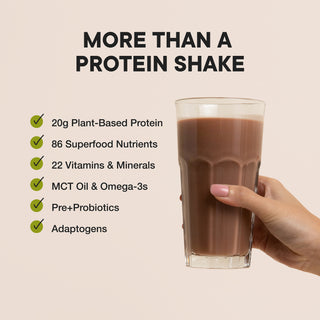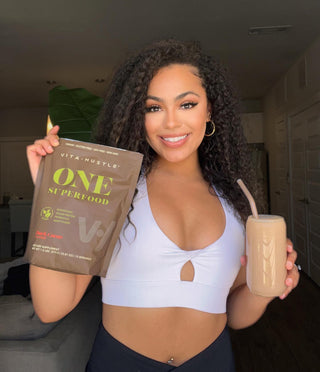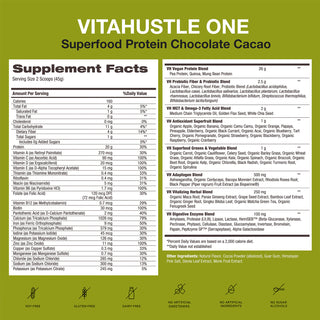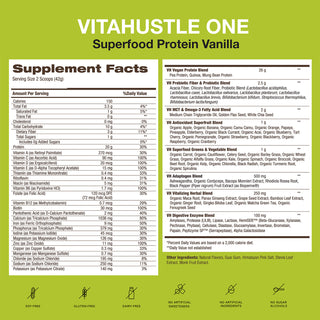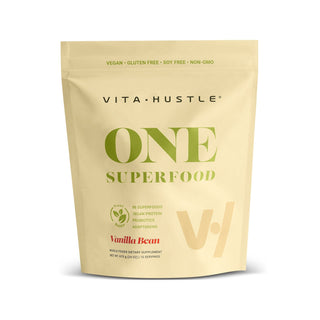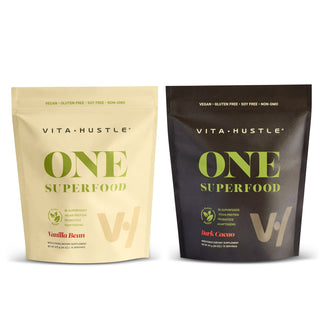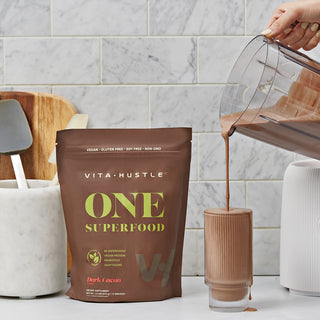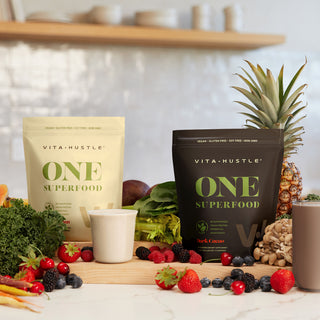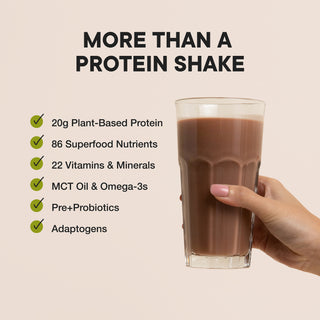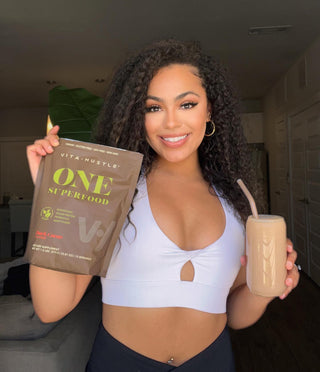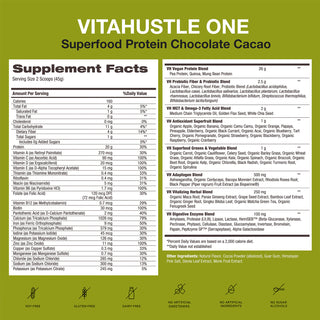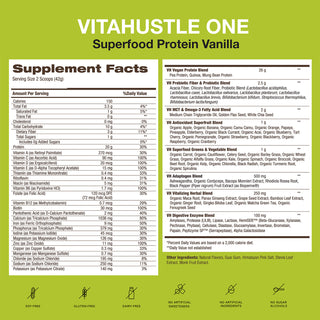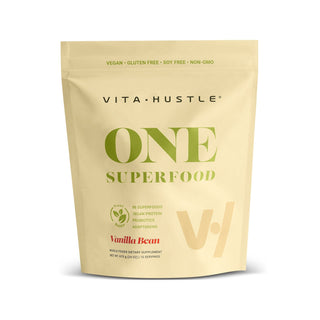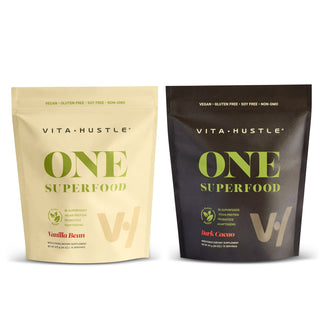 ONE Superfood Protein + Greens || Plant Based
VitaHustle ONE is a plant-based superdrink that contains 86 superfoods, greens & essential nutrients to fuel your day.  Adaptogen, probiotics and vitamins boost energy, immunity, digestion and satiety. Mixes easily with water, milk or a smoothie.  15 Servings per bag.
Flavor
Chocolate Cacao
Vanilla Bean
Chocolate / Vanilla
Quantity
1 Bag (15 total servings)
2 Bags (30 total servings)
Quantity
1 Bag (15 total servings)
60-Day Money-Back Guarantee
HOW TO USE
Add 2 scoops of powder, blend with 8-12 oz. of ice cold water or milk, pour over ice and drink immediately. Can be used as a breakfast shake, meal replacement, pre-or-post workout or snack. Check our our recipes here.
INGREDIENTS
SUPPLEMENT FACTS
Vanilla Bean Supplement Facts Panel
Chocolate Cacao Supplement Facts Panel
Crazy Good!
Being a vegetarian this is a great product for me to make sure I am getting everything I need. B12 an iron are a must and this fills in the gap perfectly!
This is my go-to breakfast smoothie protein powder. It tastes great, blends well and goes down smooth!
Amazing product
It tastes amazing and I feel better, does not quite curb my cravings or give enough energy. I still find myself needing coffee in the morning
Tastes great mixes well in smoothies
Im convinced
Solid product! I enjoy the plant based version and it truly has the affect of a quality plant based protein. Good flavor and the bags come full.
All GOOD NO B.S. (BAD STUFF)
Clean & green ingredients with no artificial sweetners or scary sounding ingredients.
No Artificial Ingredients
ZERO ADDED SUGAR. 100% DELICIOUS.
At VitaHustle, we're on a mission to disrupt the game and make premium nutrition accessible to all. Our commitment is simple: empower you to become the superhero version of yourself through simple, nutritious and damn delicious products.