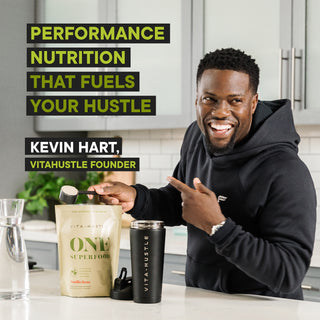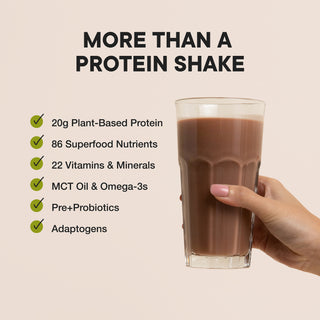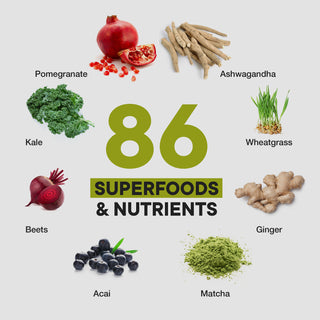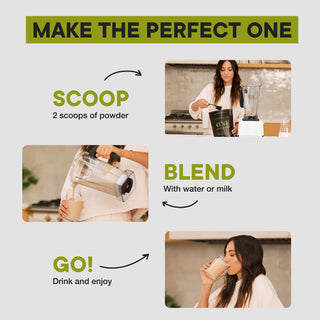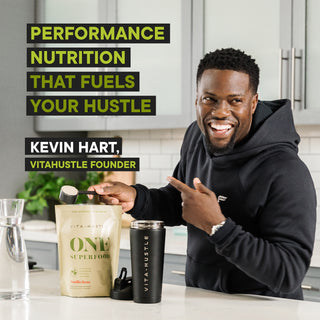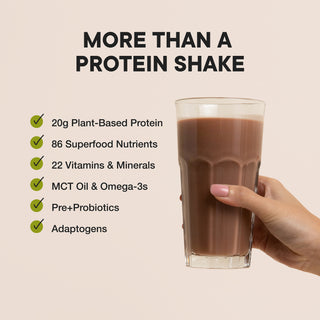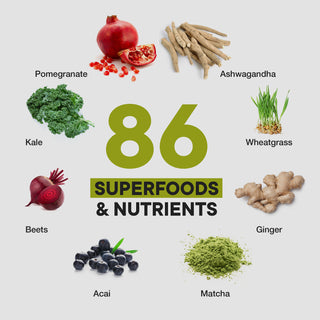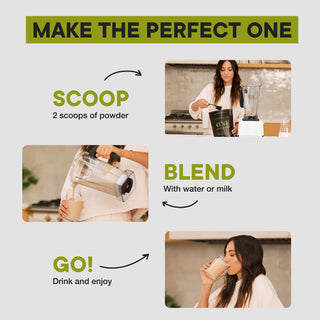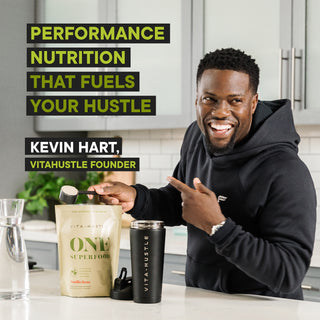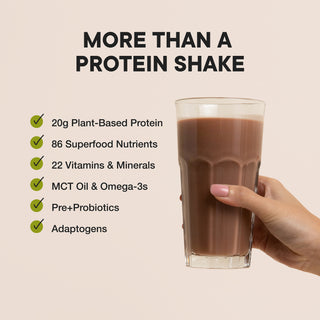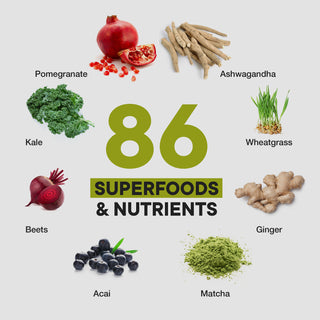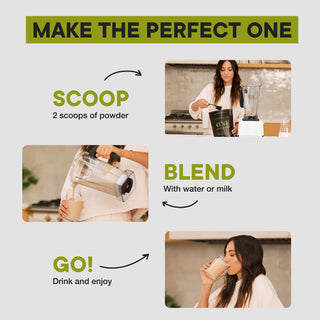 ONE Superfood Protein + Greens
This all-in-one superdrink contains 86 superfoods, 20 grams of vegan protein, probiotics and adaptogens. It's power packed with nutrients to boost energy, focus, immunity, digestion, mood and muscle recovery.  Paleo & Keto friendly. 15 Serving Bag.
Flavor
Chocolate
Vanilla
Mixed 2 Pack
60-Day Money-Back Guarantee
HOW TO USE
Add 2 scoops of powder, blend with 8-12 oz. of ice cold water or milk, pour over ice and drink immediately. Can be used as a breakfast shake, meal replacement, pre-or-post workout or snack. Check our our recipes here.
INGREDIENTS
Pea Protein, Quinoa, Mung Bean Protein, Acacia Fiber, Chicory Root Fiber, Lactobacillus acidophilus, Lactobacillus casei, Lactobacillus salivarius, Lactobacillus plantarum, Lactobacillus rhamnosus, Lactobacillus brevis, Bifidobacterium bifidum, Streptococcus thermophilus, Bifidobacterium lactis/longum, Medium Chain Triglyceride Oil, Organic Golden Flax Seed, Organic White Chia Seed, Organic Apple, Organic Banana, Organic Camu Camu, Organic Lemon, Papaya, Pineapple, Elderberry, Organic Maqui, Organic Acai, Organic Blueberry, Tart Cherry, Organic Pomegranate, Organic Strawberry, Organic Blackberry, Organic Raspberry, Organic Cranberry, Organic Carrot, Organic Cauliflower, Organic Celery Seed, Organic Barley Grass, Organic Wheat Grass, Organic Alfalfa Grass, Organic Kale, Organic Spinach, Organic Broccoli, Organic Beet Root, Organic Kelp, Organic Chlorella, Organic Radish Sprout, Organic Turmeric Root, Organic Spirulina, Organic Ashwagandha Extract (as KSM-66®),
Organic Cordyceps, Bacopa Monnieri Extract, Organic Rhodiola Rosea Root, Black Pepper (Piper nigrum) Fruit Extract (as Bioperine®), Organic Maca Root, Panax Ginseng Root Extract, Grape Seed Extract, Bamboo Leaf Extract, Organic Ginger Root, Gingko Biloba Leaf, Organic Matcha Green Tea, Organic Fenugreek Seed, Amylases, Protease (I,II,III), Lipase, Lactase, HemiSEB™ (Beta-Glucanase, Xylanase, Pectinase, Phytase), Cellulase, Diastase, Glucoamylase, Invertase, Bromelain, Papain, Peptizyme SP™ (Serrapeptase), Alpha Galactosidase

SUPPLEMENT FACTS
Vanilla Bean Supplement Facts Panel
Chocolate Cacao Supplement Facts Panel
Crazy Good!
Being a vegetarian this is a great product for me to make sure I am getting everything I need. B12 an iron are a must and this fills in the gap perfectly!
This is my go-to breakfast smoothie protein powder. It tastes great, blends well and goes down smooth!
Amazing product
It tastes amazing and I feel better, does not quite curb my cravings or give enough energy. I still find myself needing coffee in the morning
Tastes great mixes well in smoothies
Im convinced
Solid product! I enjoy the plant based version and it truly has the affect of a quality plant based protein. Good flavor and the bags come full.
All GOOD NO B.S. (BAD STUFF)
Clean & green ingredients with no artificial sweetners or scary sounding ingredients.
No Artificial Ingredients
ZERO ADDED SUGAR. 100% DELICIOUS.
At VitaHustle, we're on a mission to disrupt the game and make premium nutrition accessible to all. Our commitment is simple: empower you to become the superhero version of yourself through simple, nutritious and damn delicious products.